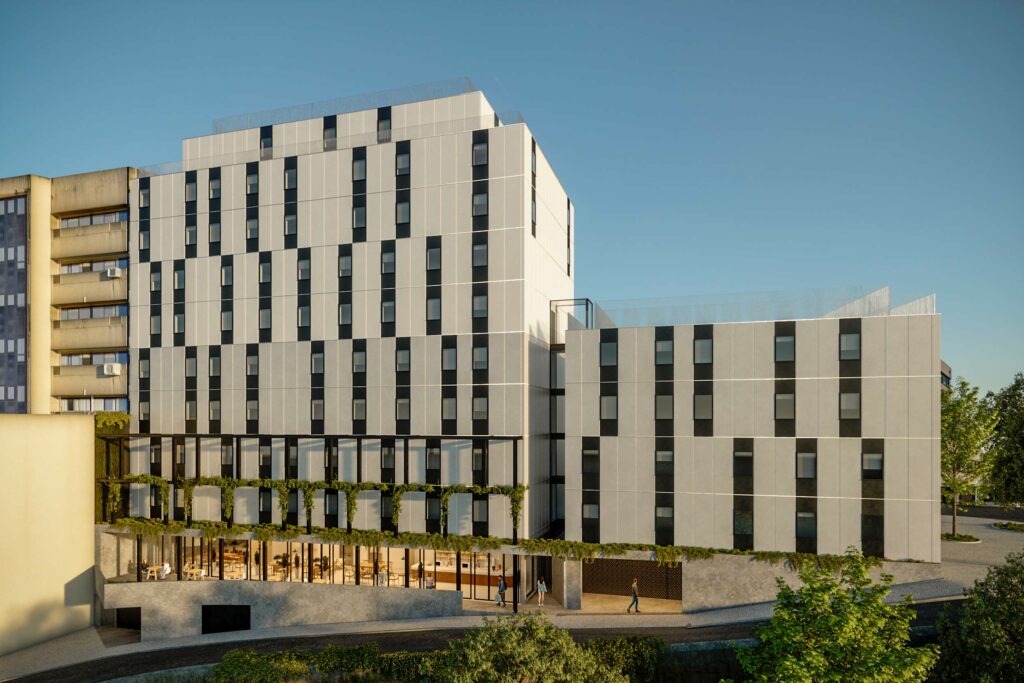 The project developed for Eiffage Immobilier is a 176-room hotel located in the centre of Porto, near the Casa da Música.
The programme is part of a global approach to the requalification of the site. It completes the discontinuous urban front and offers a reformulation of the adjoining public space, with the enlargement of the current "Largo Da Paz" square.
The project is located on the site of an old house, leaning against the blind gable of an adjoining building. The hotel spreads from west to east on the basis of two adjoining buildings, respectively R+9 and R+4. This layout allows the different scales of the buildings adjoining the site to be articulated. A common base houses the reception, bar, restaurant, lounge and hotel management and support areas (kitchen, technical areas and meeting rooms). The upper floors up to the R+8 are mainly organised with double rooms for a total of 176 rooms. The project occupies a surface area of 840 m² and has one level of underground parking. The homogeneous character of this architectural complex is underlined by the unity of the treatment of the facades, by the sobriety of the materials used and by the systematic repetition of the glazed openings. The facades are characterised by a simple geometry in prefabricated exposed concrete.
BREEAM label- Excellent is being sought including a diagnostic study of the recycling of the elements of the mansion on the site.